Parking Lot Striping Services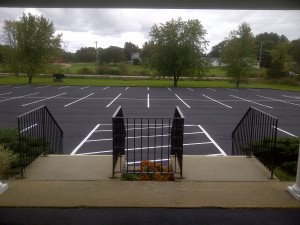 Everyone is aware of parking lot line striping and street markings, they are everywhere you look today. Parking lot striping is an essential guide for drivers to safely navigate their vehicles by providing very important information to the direction of traffic and where both standard parking spaces as well as handicap accessible spaces are located. Keep in mind due to the multiple stencil options available they sometimes do not match perfectly and ghosting occurs. We would need to black out or cover up the old stencils before repainting the new one so it's sharp and bright. There are many options when it comes to parking lot striping layouts and designs. We suggest contacting your city planning department to ensure that you meet the code without any violations. We can help with the design of your lot to maximize the number of spaces. Custom line striping is virtually anything you want painted. Businesses today are looking for creative ways to bring attention to them and increase the overall aesthetics.
Parking Lot Stencils

* Arrows
* Handicap Accesible
* No Parking
* Fire Lane
* Letters & Numbers 12″ and up
* Stop Bars
* Slow
* Enter & Exit
* One Way
* Reserved
* Compact Parking
* Motorcycle Parking
* Many more

Options

* New layouts
* Restriping existing layout
* Curb painting
* Speed bump painting
* Glass beads for high reflectability
* Number or Letter parking spaces
* Custom designs
* Company logo's
* Concrete sidewalk-walkway stain

Specializing

* Line striping NH
* All businesses
* Multi-units
* Commercial parking lots
* Retail stores
* Restaurants
* Auto stores
* Management companies
* Condo associations
* New construction
* Paving companies
* Sealcoating compaines
Parking Lot Striping Designs
The straight in design (90°) always allows for the most parking spaces with two way traffic. In some instances angled stalls (45°, 60° or 75°) can be the only option. Angled stalls can be easier for drivers to turn into and back out of and require a narrower driving lane. Angled stalls provide a controlled one way traffic flow, but will use more square feet of the parking lot. Parallel spaces against buildings, fences or property lines can offer some additional parking. Other options such as tandem parking where vehicles park bumper to bumper commonly found in apartment buildings or areas where truck and trailer parking exists.
Curb Painting & Sidewalk Stain
We offer curb painting, blue and red are the most common colors but also green and yellow can be used. What a great way to enhance the overall look and the safety of your parking lot. Sidewalk stain has may standard color options and custom colors to.
Also Offering Basketball Court, Pickle Court, and Tennis Court Line Striping
We also offer line striping services for Basketball courts, Pickle Ball Courts, and Tennis courts.  
We have done this type of striping on many occasions and would be happy to discuss this project with you as well.  
Types of Paint
The two highest quality products made by Franklin Paint Company® Hydrophast Premium™ and Sherwin-Williams® Pro Park™ Waterborne which is lead free, VOC compliant, fast drying, 100% acrylic waterborne traffic paint.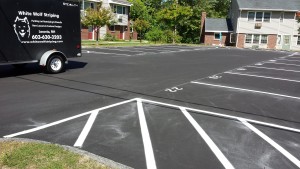 This product conforms to the new Federal specifications TT-P-1952E type I & II as well as most state and federal specification. It is specifically manufactured for a durable bright finish. Color options (white, yellow, blue, red, green, black)
Call Us For a Free Estimate On Your Future Parking Lot Line Striping Job
Serving the Lakes Region and all of NH. Call us anytime at 603-630-3203 for a free estimate.